Jet Capsule: A Futuristic Looking Luxury Boat That Can Take You On a Comfy Cruise Ride Across the Sea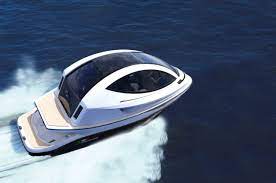 Small in size but packs real power, the Jet Capsule is the precursor to future mini yachts that looks really cool.
'Less is more ' is a phrase that we hear pretty often. Interestingly, one Italian company has taken it literally and come up with a boat in the shape of a capsule. It represents the minimalist future of yachts that combines both luxury and speed. Its name: Jet Capsule. Pierpaolo Lazzarini is behind the project and has designed capsule-shaped luxury boats that are minimal to the size yet spacious enough to provide all the comfort and luxury while riding the immensity of the sea. Lazzarini Design has long been in this space, pioneering the design, performance, and comfort of these luxury yachts to sail in an efficient, stylish and practical way.
Jet Capsule: A Luxury Mini Yacht
The concept of Jet Capsule is not new, as the company started its dream project back in 2010. At that point, the Italian company aimed at creating a water mobility solution that would combine the comfort and luxury of super deluxe yachts but in a frame that is as compact as an average-sized car. The result was a super cool design representing a jet ski with a capsule frame containing all the luxury onboard. It was named the Jet Capsule, and the project spent another two years in the prototype stage before being available for customers to take.
As for its specifications, the Jet Capsule is powered by a powerful hydroelectric propulsion system. Moreover, depending upon the model, the Jet Capsule is also equipped with a single 370 horsepower engine and a double 740 horsepower engine. Simply put, Jet Capsule is a super stylish and fully customizable mini yacht. It boasts a futuristic capsule design around 8 meters in length that lends enough space for a perfectly joyous and thrilling ride on the water.
Jet Capsule Instantly Catches Attentions
The eye-catchy design and outstanding features were an instant hit the moment Jet Capsule was unveiled at the International Monaco Boat Show in 2014. It's more attractive and agile Reptile version further propelled its popularity to skies, and by 2018, the company was getting orders from countries like Spain, China, and Canada.
Although the company has customers worldwide, Jet Capsules are manufactured locally by S3, a Lazzarini partner. Moreover, Jet Capsule comes in different sizes, configurations, and propulsion power. Depending upon the configuration chosen, a Jet Capsule can accommodate a maximum of nine people. Not just that, it could even include a kitchen, a small private bathroom, and sofas that can act as a bed. Probably not the best for a longer sea stay, but it has everything to make the ride smooth and comfortable for a recreational trip.