Why Is Muga Silk So Expensive?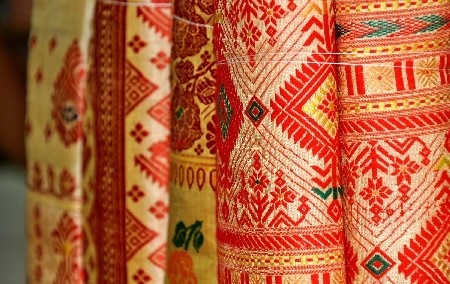 Only produced exclusively in Assam, Muga silk is known for its lustrous golden hue, strength, and delicate texture.
You may have also known it as the "gold fiber." This natural golden yellow color silk is hand washable and increases in luster after each wash.
Such is the rarity of this silk that it was only reserved for the royal family in the past. Even today, a saree made from Muga silk can cost more than 6000 Indian rupees.
Amazing, right. Why is Muga silk so expensive, though? Let's find out the answer.
What makes Muga silk so expensive?
The magnificent dresses made up of Muga silk are almost as worthy as gold. In fact, these extraordinary dresses are some of the most expensive clothing items you can find in the market. But why such high price tags? Several reasons contribute to the high price of Muga silk. Let's explore each of them in more detail;
Production is limited only to a specific geographic location in Assam
You may have heard that Muga silk is indigenous to Assam. It's true to some extent, but in Assam, too, the production is only limited to Brahmaputra valley. Only a handful of districts, like Kamrup, Goalpara, Udalguri, Kokrajhar, Tinsukia, and Dibrugarh, have the environment and ecosystem suitable for the production of Muga silk. Limited production capabilities and time-consuming processes cap the quantity of Muga silk produced.
Muga silk is of high quality
Quality obviously is a contributing factor in the high prices of MUGA silk. Also called the 'queen of silk,' its luster only increases with every wash. Moreover, the low porosity of silk renders it almost impossible to be dyed or bleached, which allows it to retain the characteristic golden reflection. The quality of its floss is way superior to any other silk variety available in the market. Due to its unique sheen and texture, it's a highly sought-after material in the fashion world.
Demand is rising exponentially
The sheer quality and exquisite brilliance of Muga silk have caught the whole country's attention, and therefore, there is a massive surge in demand. In Assam, Muga silk mekhela chadar or saree can cost around 9000 rupees, while outside of Assam, the price can go even higher. Limited production and higher demand are fueling the price of Muga silk, and they are reaching the skies.
Muga Silk – a golden tradition
Muga silk is the gift of nature to Assam. It's more than a livelihood for Assamese people; it's a tradition woven into their everyday lives and represents the local people's rich ancestral craft heritage. The aesthetic, golden touch and charm make Muga silk unique. With Muga silk, you are not just wearing a piece of cloth, but tradition and culture. It's gold woven into fabric and therefore demands a price worthy of its brilliance.